Aberfeldy Distillery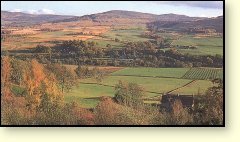 Location: Aberfeldy, Perthshire PH15 2EB
Roads: On A827 by Aberfeldy
Hours: Easter - October, 9.30am - 4.30pm Mon - Fri; November - March, by appointment Group bookings by appointment
Reception centre, shop and exhibition
Phone: 01887-820330


Text from The Whisky Trails, Copyright © Gordon Brown 1993:


Aberfeldy is an attractive, typically Highland town with an elegant road bridge built by General Wade; this one is special, however, having been designed by William Adam. The town was visited by Robert Burns (who then wrote his song The Birks o' Aberfeldy). The distillery lies in a beautiful setting on the bank of the River Tay with woodland close by which has a population of rare red squirrels.

The distillery belonged to Dewar's the Perth blending firm and their bottled whisky was already doing well enough by the 1880s for a London office to be opened. In 1892, regarding the world as his oyster, Tommy Dewar set off on a two-year world tour to promote his whisky. He came back with 32 new agents in 26 different countries. He used to get his share of requests for money, and on the occasions that they were made face to face with him, he would hand over a card which read, 'I have given up lending money for some time, but I don't mind having a drink. Make it a Dewar's.' He was later the third person in the UK to own a car (after Thomas Lipton, the tea and groceries magnate, and the Prince of Wales). Both of the Dewar brothers became Lords, Forteviot and Dewar being the names they chose.

The project by John Dewar's of Perth to build Aberfeldy got under way in 1896 but it was in the difficult year of 1898 that production actually began. An earlier Aberfeldy distillery had been set up but it only lasted a couple of decades and Pitilie, founded in 1825, was also short-lived. The Dewar operation was on the same burn, the Pitilie, as well as on the Aberfeldy/Perth railway line, a factor that was important in making the distillery viable. Dewar's acquired six other malt whisky distilleries between 1919 and 1923, all of which they took with them when they became partners of DCL in 1925, and, in the 1980s, joined United Distillers

The still house and tun-room were rebuilt in 1973 using the original stonework. The old kiln with its pagoda roof is still in position but it now contains a production unit for pot ale syrup, a high-protein cattle feed made from the lees of the first distillation. Medium-peated malt is used from the company maltings. There are two pairs of stills.


The Whisky
Text from The Whisky Trails, Copyright © Gordon Brown 1993:


Aberfeldy, a Highland malt, fills out from a lightly peaty aroma to a big, fairly concentrated smoky, tangy-fruit flavour. Some attractive wood and flowery sweetness. It is officially available at 15 years old and 43% vol. with some vintages going back to the 1970s from the independents.

Source of water
Pitilie Burn

Of interest
Text from The Whisky Trails, Copyright © Gordon Brown 1993:


• Castle Menzies at Weem is an excellent example of the unique architectural style that developed in the Scottish fortified house. It has a museum.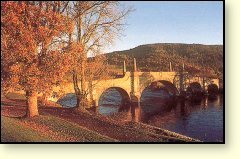 The bridge over the Tay at Aberfeldy shows the elegant, classic design of William Adam.

• Aberfeldy Water Mill is a fetching water mill of 1825 vintage now restored to full working status. There is a little museum and theatre where the story is told of traditional meal-milling and its effect on the community.

• Dunkeld means 'Fort of the Celts' and it goes back to 729 AD when it was a place of safety for fugitive monks. The roofless cathedral spanned 500 years of construction. The National Trust's Little Houses are an intriguing group of town cottages restored to 18th-century authenticity.