Auchentoshan Distillery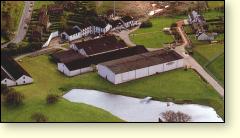 Location: Dalmuir
Roads: On A82 by the Erskine Bridge over the River Clyde
Hours: Not open to visitors
Phone: 01389-878561



Text from The Whisky Trails, Copyright © Gordon Brown 1993:


Old Kilpatrick is where the Roman wall of Antoninus Pius, having crossed the narrowest part of Scotland, descended to the shore of the River Clyde at the north-western limit of the Roman Empire. It is a built-up area now so there is no trace above ground of the fort that stood here or the wall itself. Unlike Hadrian's stone wall to the south, the Antonine structure was made of turf and peat.

Auchentoshan is a Lowland malt but uses Highland water, as the source that is tapped for production is in the Kilpatrick Hills just to the north of the Highland Line. The malt is lightly peated and the spirit triple-distilled. Clydebank, the centre of the now-gone ship-building industry was heavily blitzed during the last war. The distillery dates from 1800 and has been in continual, rather than continuous, production ever since. A succession of operators ran it over the years. In the 1960s the Tennent brewery acquired it but the present owners are a smaller specialist independent company. The equipment is a mixture of ancient and modern with some of the wooden vats more than a century old. There is an old steam engine still in the distillery.


The Whisky
Text from The Whisky Trails, Copyright © Gordon Brown 1993:


Auchentoshan is delicate and smooth with light, floral and fruity character. Slightly spicy and surprising fleshy. It is bottled as Select, 10 and 21 years old.

Source of water
Kilpatrick Hills Springs

Of interest
Text from The Whisky Trails, Copyright © Gordon Brown 1993:


• Ballantine's Whisky Scottish base and grain whisky distilleries are located on the shore of the Firth of Clyde. Vast warehouses of maturing spirit are guarded by flocks of Chinese geese which are extremely noisy if anyone approaches their patch.