Balmenach Distillery


Location: Cromdale, Morayshire
Roads: Off the A95 between Grantown and Bridge of Avon
Homepage: www.inverhouse.com



Text from The Whisky Trails, Copyright © Gordon Brown 1993:


Road traffic, whether beast or man, has long passed to and fro through Cromdale, one of the crossing points of the Spey; on the hills above the village the Jacobites were defeated in a battle in 1690. Balmenach was one of the earliest of the new wave of distilleries sanctioned as a result of the new legislation in 1823. It is closely associated with Sir Robert Bruce-Lockhart whose book Memoirs of a British Agent had a big success on British television in telling the story of Reilly Ace of Spies.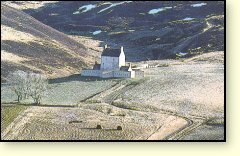 With its star-shaped ramparts, Corgarff Castle stands guard over the great canyon of the Lecht Pass.

Sir Robert wrote of spending the happiest days of his life as a boy in Cromdale and told the story of his farmer great-grandfather Macgregor who was visited by an Excise officer just after the Excise Act had been passed. As he was shown round the farm in a relaxed and friendly manner, the officer pointed to the outhouse where Macgregor produced his clandestine whisky and asked what it was for. 'That's just the peat-shed,' he replied. The officer said nothing and continued the tour. The two men drank some whisky, and then, as the officer rose to leave, he said quietly, 'If I were you, Mr. Macgregor, I'd take out a licence for yon peat-shed.'

Macgregor took the hint, which is why the licence to distil dates from 1824. Towards the end of the century when new-fangled electric light was starting to appear in the Highlands. Balmenach was distinctly old-fangled and water-powered. The whisky sold well and was exported to the colonies; in 1878 Queen Victoria enjoyed it during a stay at the Gairloch Hotel by Loch Maree.

The family survived the end-of-century whisky market collapse but production restrictions by the government during World War I to reserve cereals for foodstuffs finally led the Macgregors to sell on in the 1920s.

A Saladin Box malting system was installed in 1964 and used until the mid-1980s. There are three pairs of stills. The railway 'pug' engine that replaced the earlier locomotive worked at Balmenach for just over 30 years before the local railway line was axed by Dr Beeching in 1968. Unfortunately, with recessionary pressures once more touching the Scotch whisky industry, Balmenach was 'mothballed' in June, 1993.


The Whisky
Text from The Whisky Trails, Copyright © Gordon Brown 1993:


A Speyside malt that combines elegance with full, round intensity of flavour. Dry, light malt and smoke, oaky musk. The official self whisky is 12 years old and 43% vol.

Source of water
Cromdale Burn