Ben Nevis Distillery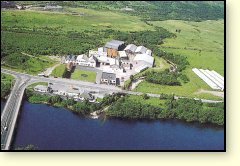 Location: Lochy Bridge, near Fort William PH33 6TJ
Roads: On A82 (Fort William-Inverness) near junction with A830 to Mallaig
Hours: 9am - 5pm, Mon - Fri; also 10am - 4pm, Sat Easter - end-September Group bookings max 15 per tour
Reception centre, exhibition and shop
Phone: 01397-700200
Homepage: www.highlandtrail.co.uk/spirit1.html


Text from The Whisky Trails, Copyright © Gordon Brown 1993:


Fort William was one of the 'forts and roads' network steadily built up in the Highlands by the London governments to control rebellious tendencies in the inhabitants. Most of the Highlanders were Jacobites and there was a succession of uprisings, those of 1715 and 1745 merely the best known. The town is dominated by the massive bulk of Ben Nevis, the highest mountain in Britain at just over 4000 feet.

'Long John' Macdonald was a very tall man and, although this fact was immaterial to the making of his whisky, the nickname eventually served well when it came to choosing a brand name. His distillery was founded in the shadow of Ben Nevis in 1825 and the 'Dew of Ben Nevis' was the first name given to his product. In fact his association with Ben Nevis was short – little over a year – but, with a succession of Macdonalds and Macdonells as licensees, it could be said to have at least remained within the clan. The distillery survived a sequestration in 1856 and the Long John name was sold in the 1920s, but in 1955 it was taken over by new owners with Joseph Hobbs as a moving force. Hobbs was an interesting character, a Scot who made a fortune in Canada and returned to Scotland and began buying whisky distilleries. Hobbs dabbled in new blending ideas, believing that whiskies would be greatly improved if 'married' – mixed together – for longer periods before bottling. No doubt he put some of his ideas into the Grand Reserve Blend that he had created for the splendid Inverlochy Castle Hotel which he owned nearby. The mansion was once Hobbs's home but is now one of Europe's top hotel/restaurants and still owned by his daughter-in-law.

In 1878 a second distilling unit was built nearby as an extension to Ben Nevis itself. It was called Nevis and operated as a separate entity for 30 years before being absorbed into the Ben Nevis operation in 1908. A housing development occupies the site of Nevis distillery. Ben Nevis is now owned by the Japanese company, Nikka.

The water to make the whisky is drawn from the Allt a'Mhuilinn (the Mill Burn) that starts as snow-melt. It could hardly be purer or colder. The mash-tun is a Glenspey type lauter tun made of stainless steel.There are two pairs of stills today which date from the 1955 acquisition. A continuous still was also installed for making grain whisky, but is no longer on site.


The Whisky
Text from The Whisky Trails, Copyright © Gordon Brown 1993:


A recent limited edition of 90 bottles from a 63-year-old cask of Ben Nevis whisky attracted prices as high as £2,000 a bottle. Dew of Ben Nevis is a blend. It is bottled at four and 12 years old, both 40% vol. The broad style is light in peat and sweetish with a grassy/spicy persona. Ben Nevis is a West Highland malt. Selections of malt whisky are bottled at cask strength and at various ages, in limited numbers.

Source of water
Allt a Mhullin

Of interest
Text from The Whisky Trails, Copyright © Gordon Brown 1993: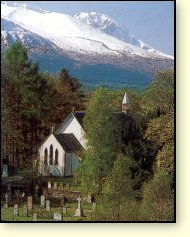 The snow stays on the peak of Ben Nevis into the arly summer.

• The West Highland Museum in Fort William is crammed with fascinating exhibits. There is the gun that killed the 'Red Fox' from Stevenson's Kidnapped and a shiny metal tube that transforms daubs of paint into a secret portrait of Bonnie Prince Charlie.

• Glenfinnan Station on the stunningly beautiful West Highland railway line has been made over to an interpretative centre and railway museum.

• The Cable Cars on Aonach Mor are the only ones of their type in Britain.

• Roy Bridge is the site of the last clan battle that took place in Scotland. It was between the local Macdonells and Macintoshes.

• The Parallel Roads high on the hillsides of Glen Roy mark three successive shorelines of a lake that formed at the end of the last ice age.