Caol Ila Distillery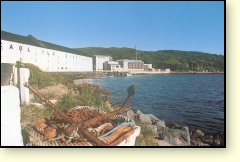 Location: Port Askaig, Isle of Islay PA46 7RL

Hours: All visits by appointment
Phone: 01496-840207


Text from The Whisky Trails, Copyright © Gordon Brown 1993:


Caol Ila is not a pretty distillery by any stretch of the imagination, but the view outwards from it is exhilarating. The buildings are tucked in the lee of a hill on the seashore by the ferry from Jura and you look over to the famous Paps of Jura rearing on the far hinterland. The still house is glass-fronted and these shapely mountains are always in view as the still house staff go about their daily work. The ferry was the crossing-point for the Islay cattle-drovers, today's tranquillity such a contrast to the bellowing of the herds and the drunken shouting of the herdsmen that must have filled the air when a drove was on.

Caol Ila dates from 1846 and was built at this lovely but remote spot by Hector Henderson who had business connections with Littlemill (Lowlands) and some now long-defunct Campbeltown distilleries. He went on to invest in two other distilleries – Lochindaal on Islay and Camlachie in Glasgow – but he overstretched himself and had to sell up in 1852. It was bought by the owner of Isle of Jura distillery but he too had to find a buyer just a decade later – Bulloch Lade and Co. who were Glasgow blenders. This was the beginning of Caol Ila's subsequent reputation as a top blending malt.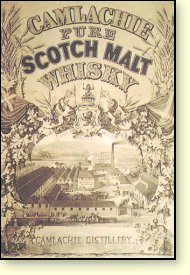 In the mid-19th century, the owner of Caol Ila also had two other distilleries.

Bulloch Lade rebuilt the distillery in 1879, making use, in the process, of a newly patented substance called concrete; it was the first building on Islay to do so. Caol Ila continued to produce up to the present day with short periods of closure from 1930 to 1937 (under new owners DCL) and during World War II. The distillery was again rebuilt in 1972 as the stark functional structure that makes you wince when you first glimpse it from the ferry.

Caol Ila – simply Gaelic for the Sound of Islay on whose shore it stands – used to be on the delivery route of DCL's famous puffer coaster, the SS Pibroch. It was still working the west coast recently, although this was for other owners since it was sold in 1972. There are six stills, four of them dating from the 1972/4 rebuilding. Some of the casks of spirit from Caol Ila are matured in the warehouses of the old Lochindaal distillery near Port Charlotte, which was closed in 1929.


The Whisky
Text from The Whisky Trails, Copyright © Gordon Brown 1993: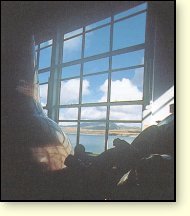 The view out from the still house at Caol Ila is particulary dramatic.

Caol Ila has the pepper, smoke and peat of Islay but it has its own velvety, oily/glycerine texture and middleweight presence. It has only recently become available as a bottled malt but even now its distribution is very limited. It is certainly available at the distillery, but is just as likely to be encountered in Italy, where they are great Scotch malt cognoscenti, as in high streets around Britain. Standard issue is 15 years old at 43% vol., but there have recently been 12- and 13-year-olds at different strengths as well as 1978 and 1972 vintages from independents. Source of water
Loch Nam Ban