Cragganmore Distillery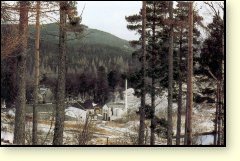 Location: Ballindalloch, Banffshire AB37 9AB
Roads: Off the B9137 near Bridge of Avon
Hours: Visits by appointment
Reception centre
Phone: 01807-500202


Text from The Whisky Trails, Copyright © Gordon Brown 1993:


Ballindalloch is the inland terminus of the northern section of the Speyside Way, the walkway that follows the line of the old railway track that ran along the side of the beautiful River Spey. The distillery buildings lie in a hollow in the lee of Craggan Mor Hill around their own stretch of fast-flowing burn, which empties into the Spey just below.

This is classic Highland malt whisky country – meadows, woodland, outcrops of hard rock and fast water. Nearby is Ballindalloch Castle, a fine house in the Scottish Baronial style and home of the Macpherson-Grants. The family have long taken a special interest in the distillery and they lay down casks of Cragganmore for their own use. They do not stand on ceremony; when stocks run low at the castle, a caller simply turns up at the distillery, pays the Excise duty, puts a cask in the back of the Range Rover and drives off.

Cragganmore founder, John Smith, wholeheartedly embraced the facility of the railway and travelled everywhere by train. However, because of his great 22-stone girth, he was unable to squeeze through the carriage doors and always had to travel in the guard's van. The leather armchair he had made to measure for himself is still at Cragganmore. The distillery was the first to plan its layout and distribution to suit the new rail transport and in 1887, a year after John Smith died, the first 'Whisky Special' train steamed out of Ballindalloch station with a load of 16,000 gallons. The event is recorded on the label of the 12-year-old.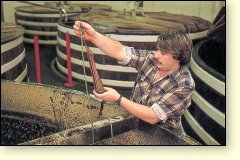 Checking the washback.

Smith was one of the foremost distillers of his time. He had already managed the distilleries of Macallan, Glenfarclas and Glenlivet (of whose founder he is thought to have been an illegitimate son) when in 1869 he obtained a lease from Sir George Macpherson-Grant to set up his own operation at Ayeon Farm on the Ballindalloch Estate. Cragganmore was the first new pot-still distillery in the area since the 1840s and Smith wanted to tap into the 1860s whisky boom. After his death his son, Gordon, took over and in 1901, a time when distilleries were closing down everywhere, he brought in Charles Doig to rebuild the distillery. The fact that he could even contemplate such expenditure underlines the extent to which Cragganmore was a first-choice malt on the market.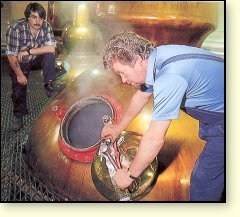 Some of the 'family' of employees at work, checking the washback and the stills during the whisky-making process.

For a long time Cragganmore was a mixture of ancient and modern – electric light was installed in 1919 but new buckets were being ordered for the waterwheel as late as 1950, a year before national grid electricity became accessible.

The public side-road ends at Cragganmore and there is still something of the feel of the old self-contained Highland distilling communities about the place. Family houses line the fringe of the distillery grounds; the visitors' reception area, known as the Cragganmore club resembles a Victorian Gentleman's sporting club. It is finished like a drawing room; they have their own snow-ploughs to clear the roads in winter and get the children out to school; and most of the men can turn their hand to a wide range of skills.

Cragganmore's two pairs of stills are unusual in that the lyne-arms at the top, which rise like swan-necks in other distilleries, taper horizontally in a T-shaped configuration. John Smith designed them this way so they probably have much to do with Cragganmore's aristocratic fine spirit. Worm-tubs for condensing the spirit are still used.


The Whisky
Text from The Whisky Trails, Copyright © Gordon Brown 1993:
Cragganmore is a very fine, aristocratic malt with excellent malt and smoke details. Drier than many Speysides, it has complexity and length, but delivers quietly. Only recently widely available as a self whisky, it is 12 years old at 40% vol. but 20-year-old and some vintages from the 1970s are available from other bottlers.

The malt is used in blends under the Macallum brand which quirkily markets Scots, not Scotch, whisky and is popular in Australia and New Zealand.

Source of water
The Craggan Burn