Fettercairn Distillery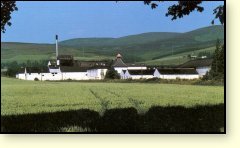 Location: Fettercairn, Laurencekirk, Kincardineshire AB30 1YB
Roads: 5 miles inland off A94
Hours: 10am - 4.30pm, Mon - Sat (last tour 4pm)
Group bookings, max 40; please telephone
Reception centre, shop and audio-visual presentation
Phone: 015613-40205


Text from The Whisky Trails, Copyright © Gordon Brown 1993:


At the beginning of the 19th century, the village of Fettercairn had one surgeon, five flaxdressers, seven shopkeepers, 10 millers and 50 weavers. There were also plenty of distillers but they could not be detailed in this contemporary description of the village because they were all illicit operators working on the upper, more remote slopes of Cairn-o'-Mount nearby.

When licensed distilling became more feasible after 1823, Fettercairn distillery's founders came, if not in from the cold, certainly down from higher up the mountain where they had been part of the smuggling fraternity. A new distillery was built in 1824 and respectability was more openly enjoyed. It was situated a couple of miles below the old site and on the Fasque estate, which was bought in 1830 by the father of William Gladstone who later served several terms as British Prime Minister. Fettercairn whisky was used in the Buchanan and Johnnie Walker blended whisky brands that had become so popular by the end of the century.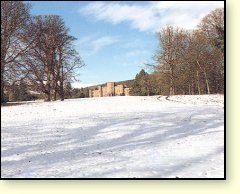 Fasque house, the childhood home of William Gladstone, is set in extensive grounds near Laurencekirk. The kitchens and sculleries remain as they were when Gladstone's father bought the estate in 1829.

The distillery, converted from an old cornmill in 1824, was among the first flush of licensed operations that followed the watershed Act of the preceding year. It was rebuilt after a fire in 1887 and then was silent from 1926 until the outbreak of World War II.

During that period, it had come close to being dismantled since a buyer could not be found. In the event Joseph Hobbs (see Ben Nevis) bought the distillery, although no production could take place before the outbreak of World War II. Fettercairn now belongs to Whyte & Mackay. There are two pairs of stills which have reflux fixtures fitted to their rather straight necks. The warehouses contain about 25,000 casks of whisky at different stages of maturity, some going back to 1939.
The Whisky
Text from The Whisky Trails, Copyright © Gordon Brown 1993:


Old Fettercairn is the official name for the whisky. It is lightly peated but the water used to make it is also peaty so it emerges as a well-textured malt with creamy, fine feel and medium weight. Some smoke, spice, vanilla lacing and a nutty/malty tone all the way through. The standard issue is 10 years old and 40/43% vol., with rare offerings from the independents. It is used in the Whyte & Mackay blend.

Source of water
Local springs in Grampian

Of interest
Text from The Whisky Trails, Copyright © Gordon Brown 1993:


•Fasque was the estate bought by the Gladstones and where William Gladstone grew up. The large house contains contains a wealth of 'Upstairs Downstairs' Victoriana.