Glenburgie-Glenlivet Distillery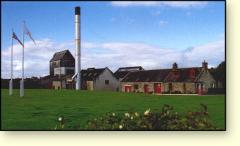 Location: Alves, by Forres, Morayshire IV36 0QU
Roads: Off A95 east of Forres
Hours: Please telephone for information about visiting
Phone: 01343-850258


Text from The Whisky Trails, Copyright © Gordon Brown 1993:


Not far from Forres is the village of Alves with its Knock Hill where Macbeth is said to have met 'the weird sisters'. The York Tower on its crown looks pleasingly Gothic but is, in fact, really quite recent. Alves is also the location of Glenburgie distillery, one of the main constituents of Ballantine's whisky blends.

There are indications that there was a distillery on the site by 1810 but official records state that William Paul began production in 1829 and the distillery was named Kinflat. It had fallen into disuse by 1870 but was revived in 1878, for the first time under the name of Glenburgie. In 1928, Margaret Nicol became one of the latterday lady managers of a Highland distillery and progressed to be her employer's divisional secretary for malt distilleries until she retired in 1958.

For a while it produced two different whiskies by the installation, in 1958, of two Lomond stills. These were used to make Glencraig malt whisky, named for a former director of the parent company's Highland distilleries. If there is any Glencraig still in existence it will never be added to since the Lomond stills were subsequently displaced by a second pair of the Glenburgie type.

Water has tended to be in short supply at Glenburgie. Attempts were made to locate extra sources by sinking boreholes but without success. The problem is slightly alleviated by retaining the cooling water and pumping it back into the distillery dam for continuous recycling. There is also a cooling tower for storage.

Vestiges of the original distillery offices and warehousing have survived the successive rebuilding work over the years. The floor maltings were utilised until 1958. A single pair of stills was used for the main Glenburgie production, which was normally kept separate from the spirit made in the Lomond stills and destined for Glencraig.


The Whisky
Text from The Whisky Trails, Copyright © Gordon Brown 1993:


Glenburgie is a succulently aromatic malt. It is very rich with touches of peat and a background of heather flower. 'Official' single malt bottlings are infrequent but the independents seem to have no trouble in coming up with some choice on the matter. Eight-, 13- and 28-year-old, as well as 1960, 1966 and 1968 vintages, have recently been available.

Glencraig has more gravitas from its Lomond origins, with oily, jammy warmth and considerable fruit presence. It is much scarcer than Glenburgie with some 1970 lately in circulation.

Source of water
Local springs

Of interest
Text from The Whisky Trails, Copyright © Gordon Brown 1993: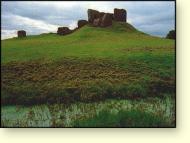 Duffus Castle at Alves was built some 700 years ago. It stands on a mound, surrounded by the ditch that formed part of its fortification.

• Duffus Castle was the original family seat of the de Moravia family, Norman incomers who were given lands in the wake of the Norman Conquest of England. They made their mark and gave their name to the county of Morayshire. Duffus Castle is, not surprisingly, a Norman motte-and-bailey castle dating from the late 1200s and is unique in its having an encircling ditch.

• Gordonstoun School, favoured for the education of successive male generations of the British Royal Family (and a sprinkling of distillers' sons), is a fine house in spacious grounds near Duffus. It is now co-educational.