Glen Scotia Distillery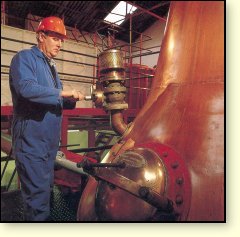 Location: Campbeltown, Argyll
Roads: High Street
Hours: Please telephone for visit details
Reception centre
Phone: 01586-552288



Text from The Whisky Trails, Copyright © Gordon Brown 1993:


Glen Scotia has been silent on frequent occasions this century, including a recent spell in the 1980s. However, the distillery keeps on bouncing back and welcomes visitors with its new facilities. The distillery had a very stable existence throughout the last century. From 1832 to 1895 it belonged to the original licensees, but then changed hands twice more before falling silent, as did so many of its neighbours, in the 1920s. For a while it belonged to the owners of Scapa distillery in Orkney, right at the other end of the country. It was owned by Gibson International, until 1994 when production again ceased. The new owners are Loch Lomond Distillery Co. Ltd. The buildings, including the malt barns and the barley lofts, are Victorian and the stillhouse is thought to be original. At some stage expansion took in a row of shops so that the yard now abutts the street. Glen Scotia maintained its cooperage function and there has always been a cooper on the distillery payroll and there is a small range of cask-making tools on display.

A single pair of stills contrasts with the set of three used at Springbank. The water is drawn from Crosshill Loch and the distillery's own wells which are 80 feet deep.

The distillery has a resident ghost, that of a previous owner, Duncan MacCallum, who committed suicide in 1930 after losing a fortune in a crooked business deal. He drowned himself in Campbeltown Loch, later made famous in a popular song by Scots entertainer, Andy Stewart. The singer dreams that the loch is full of whisky, not water, and tries to drink it dry.


The Whisky
Text from The Whisky Trails, Copyright © Gordon Brown 1993: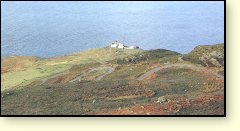 At the southern tip of Kintyre peninsula, the Mull lighthouse stands over the North Channel between Scotland and Northern Ireland.

Glen Scotia has 2000 casks in store which are maturing for bottling as a single malt at fourteen years of age at 40% vol. An independently bottled plain-cask 1979 vintage at 58% vol. is soft and sweet.

Generally, Glen Scotia is a lightly smoky, salty malt with a quite concentrated nose and good length despite a delicate structure.

Source of water
Campbeltown Loch

Of interest
Text from The Whisky Trails, Copyright © Gordon Brown 1993: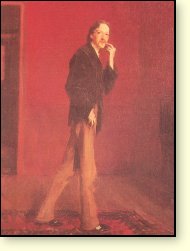 Robert Louis Stevenson's family had business links with this part of Scotland. This portrait, by John Singer Sargent, is a detail from a portrait now in New York

• The Crucifixion Painting in a cave on Davaar Island dates from 1887. It was painted in secret but is now seen by many visitors. The artist, aged 80, returned in 1934 to restore the painting and it is now regularly retouched by a local artist. Access is by a tidal causeway – so check the flow-times before you go!

• St. Kieran's Cave, 25 feet above the highwater mark near Achinoan Head, is thought to have been the earliest Christian chapel in Scotland.

• The Lighthouse at South Point on the Mull was built in 1788 and remodelled by Robert Stevenson, lighthouse-engineer grandfather of Treasure Island author Robert Louis Stevenson.

• Traces of Former Distillerie can still be seen in Campbeltown. When they closed, the roofs were taken off to avoid incurring taxes and many became warehouses to the surviving distilleries, such as Hazelburn for DCL. Benmhor still had its pagoda head in place long after it closed and Longrow used to be where Springbank now has its carpark.