Glentauchers Distillery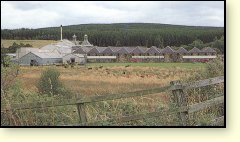 Location: Mulben, Banffshire
Roads: On the A95 west of Keith
Hours: Visitors welcome by appointment
No reception centre
Phone: 01543-860272



Text from The Whisky Trails, Copyright © Gordon Brown 1993:


James Buchanan, without any knowledge of the intricacies of distillation, set up his own company in 1884 to produce his own brand of whisky; his timing was spot-on because Scotch doubled in popularity over the following decade. He did not even have any capital, beginning with just credits from his subsequent partners in Glentauchers. He went on to spectacular success, was raised to the peerage and, even after giving away large amounts of his personal fortune, left £7 million pounds when he died at 85 years of age.

The distillery stands on a fringe of the Craigellachie Forest and was 'mothballed' in 1985. It has now been reopened under new owners, Allied Distillers, and started production again in 1989

James Buchanan & Co. Ltd., proprietors of the Black and White brand, were involved from the outset with Glentauchers. The distillery was completed in 1898 and in time a rail siding was completed. The water supply was copious so it was collected in a dam and then run through a turbine that powered everything. Substantial remodelling was carried out from 1923 to 1925, including a new spirit store designed by Charles Doig. The distillery was rebuilt in 1966 with extra stills.

The rebuilding in 1966 succeeded in creating a tidied-up exterior leaving some of the dark but shapely Victorian stone buildings. The floor maltings lost that function in 1969 and the space was given over to warehousing for casks. There are

3 wash and 3 spirit stills now in operation.


The Whisky
Text from The Whisky Trails, Copyright © Gordon Brown 1993:


Glentauchers starts gently, develops some spicy, silky core and finishes quite strongly with smoky, mellow fruit and little medicinal flashes. There is no official bottling but 1979 vintage and 13-year-old were recently available from independents. The malt is used in Allied Distillers blends. Source of water
Mulben Springs

Of interest
Text from The Whisky Trails, Copyright © Gordon Brown 1993: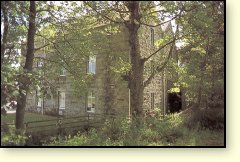 Set in woodlands, the Mill of towie has an upright, Victorian austerity.

Of interest around Keith

• An old stone Packhorse Bridge dating from 1609 was once the only means of crossing the River Isla to Fife Keith on the other bank. Witches used to be drowned in the Gaun Pot pool near the churchyard and Newmill just a mile to the north was the birthplace in 1794 of James Gordon Bennett, founder of the New York Herald newspaper.

• Drummuir Castle is a fine 19th-century mansion which incorporates a remarkable lantern tower. It also houses the Clan Macduff Centre.

• The Mill of Towie near Drummuir is a restored grain mill and produces oatmeal in the traditional manner. There is a mill-lade walk and the ponies are friendly.

• The Grain Store, also at Mill of Towie, has a working watermill.

•Keith Whisky Barrel Cooperative recycles the spent casks abandoned by the distilleries in the district. They are made into a wide range of products; even the sawdust gets used in local smokehouses for preparing smoked salmon.