Glenturret Distillery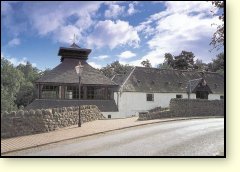 Location: Glenturret, Crieff, Perthshire PH7 4HA
Roads: Off the A85 near Crieff
Hours: Jan & Feb, 11.30am - 4.00pm Mon - Fri last tour 2.30pm; Mar - Dec, 9.30am - 6.00pm Mon - Sat. Last tour 4.30pm. Sun from 12 noon Groups over 40 by appointment
Reception centre, exhibition, shop and restaurants. Car park for 200 cars as well as a separate coach park.
Phone: 01764-656565
Homepage: www.glenturret.com


Text from The Whisky Trails, Copyright © Gordon Brown 1993:


Crieff was the great mediaeval cattle tryst of Scotland with herds converging from 25 different locations in all directions – from the Highlands, Lowlands and Borders – to be bought and sold. It was later a Victorian spa town and in the 18th century illicit distilling was carried out almost with impunity in the hills all around. Glenturret Distillery is the oldest distillery in Scotland; it dates from 1775 and illicit stills on the site go back as far as 1717.

The first named distiller at Glenturret (then named Hosh) was recorded in 1818 and there was already another distillery nearby which, in 1826, adopted the Glenturret name. It eventually faded from the scene and in 1875 the Hosh distillery became definitively Glenturret.

Distilling was stopped in 1921 and the distillery used only for warehousing whisky until 1927. In 1929 the distillery was dismantled and turned over to farm storage. In 1957, James Fairlie began a three-year drive to revive Glenturret as a distillery and today it is again one of the Highlands' established malt whiskies.

The Visitors Centre at Glenturret, complete with pristine barrels, is one of the top attractions in the area.

The distillery buildings form a line along the base of a little wooded ravine and the scale of operation is very small. Total production staff is six – a mashman and stillmen. Tasks that are done automatically in larger distilleries are still done by hand here – rather laboriously but deliberately so – in order to recreate the kind of routines that were worked a century ago. There is an old Porteous grinding mill for making the grists and a single pair of stills.
The Whisky
Text from The Whisky Trails, Copyright © Gordon Brown 1993:
One of the interesting aspects of Glenturret is that there are so many variations on the theme that it is difficult to think of any one's being the 'standard' issue. The 12-year-old at 40% vol. shows full aroma, round succulent roasted-nuts flavour and a big, velvety, oaky finish. Ages go from 12- to 25-years old; vintages go back to the 1960s; there is a 5,000-day bottling; cask-strength bottlings; ex-Bourbon and sherry bottlings. There are also independent bottlings. Source of water
Loch Turret

Of interest
Text from The Whisky Trails, Copyright © Gordon Brown 1993:


• Astronaut Alan Bean carried a strip of Bean tartan with him when he landed on the moon. He presented it to the 13th-century Church of St. Bean at Fowlis Wester, which now displays the strip of cloth.

• Old Stocks which were used for public admonition until 1816 can be seen outside the town hall in Crieff High Street.

• The old Mercat Cross in Crieff turned out to be much older than most people realised. Long after it had been installed in the market square it was realised that it was a 10th-century Celtic cross stone slab with carved runic knots.