Knockando Distillery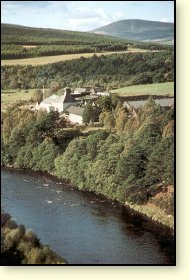 Location: Knockando, Morayshire
Roads: Off the B9102
Phone: 01340-810205



Text from The Whisky Trails, Copyright © Gordon Brown 1993:


This is the distillery that supplies much of the malt content of J & B blended whisky, one of the world's biggest-selling brands. It sits on a high wooded bank of the Spey and, viewed from the opposite side of the river, the pagoda-head, shoulders and whitewashed flanks rise splendidly from the dense tree-foliage that clusters closely around them. The parish was the home of the Grant brothers upon whom Charles Dickens based his Cheeryble brothers in Nicholas Nickleby.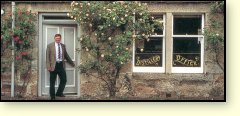 The main office at Knockando still has a Victorian charm.

Knockando distillery was built in 1898 just as the whisky crash was looming and the original owners had to sell out very soon afterwards. Gilbey's, forerunners of IDV who now own it, acquired the business in 1904 so Knockando has been in the same hands for most of its existence. When the old malt barns went out of use, assorted local events took place in them. One such was a flower show in the 1930s, which was opened by the British Prime Minister, Ramsay Macdonald; when the company won the Queen's Award for Export Achievement in 1985, another premier, Margaret Thatcher, was on hand at the distillery to receive the billionth bottle of J & B Rare to be produced.

The floor maltings were discontinued in 1968 and turned over to warehouse space. The owners now take lightly peated malt from local maltsters. There are two pairs of stills.

Knockando distillate intended for blending ages at any distillery in the group where there is room to store it. Distillate for bottling as a self whisky, however, is always warehoused at the distillery, a certain proportion in sherrywood.


The Whisky
Text from The Whisky Trails, Copyright © Gordon Brown 1993:
Knockando is light and elegant with wreathing garden aromas and smooth, soft, nutty flavours. All bottled Knockando single malt is vintage in the sense that the year of distillation is stated on the label. The idea is to market the whisky when it is ready, rather than at a specific age, so the vintages are usually from 12 to 15 years old when they first go on sale.

Knockando figures prominently in J & B blends from the 'standard' Rare right up to the older de luxes. J & B make a thing of the light colour of their whiskies, preferring not to add the caramel used cosmetically by other firms. Knockando spirit is no longer sold outside the group's sister companies so alternative ages and strengths from independents are now few and far between. Source of water
Cardnach Spring