Knockdhu Distillery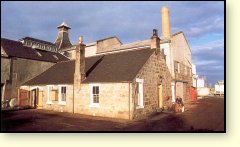 Location: Knock, Banffshire
Roads: Off the B9022 west of Huntly
Hours: Please telephone for information about visiting
Phone: 01466-771223
Homepage: www.inverhouse.com



Text from The Whisky Trails, Copyright © Gordon Brown 1993:


Knockdhu was founded by DCL in 1894 and, like Auchroisk 80 years later, the distillery was built because a spring of particularly good water was found. The owner of the Knock estate had had an analysis made of the water and DCL heard about its quality. They were under contract to supply malt whisky to Haig, the blenders (whom DCL came to own in later years) and needed to buy, or build, a pot-still distillery. Such was the scale of the operation that, when Knockdhu was built on Knock farm, the Great North of Scotland railway company built a station and sidings alongside the distillery specifically to serve it.

The distillery stayed in the same hands until very recently. It had been closed in 1983 but reopened in 1989 under the new owners, Inver House. The whisky is being relaunched under the new name of An Cnoc; it means essentially the same as before but uses the Gaelic spelling and dispenses with 'dhu', which just means 'black'. The core buildings are splendidly solid, made of the local grey granite, and at the outset included a fine house each for the distillery manager and the Excise Officer. Each house had a water-closet lavatory, in those days regarded as a distinct perk and often a matter of animated negotiation by interested parties at the design stage.

The whisky is made from spring water, to which the distillery owns the water-rights, from Knock Hill. The tapwater supply to the nearby village of Knock is from the same source. A cooperage was built in 1974. Knockdhu is a small distillery and there has only ever been a single pair of stills in place.

Many distilleries were used to accommodate servicemen during the last war but Knockdhu was lent a more exotic touch than most by the presence there from 1940 to 1945 of a unit from the Indian Army. They even had their own slaughterhouse in the distillery for the halal preparation of their diet.


The Whisky
Text from The Whisky Trails, Copyright © Gordon Brown 1993:
Knockdhu is soft, pleasantly smoky and really rather classy. The flavour is vivid with fruit, malt and lovely spiciness; quite full with an elegant, mellow finish. Officially it has been a 12-year-old at 40% vol. but it remains to be seen what is being planned under the new owners' An Cnoc label. There is presently some 1974 vintage in circulation. Source of water
Knock Hill springs

Of interest
Text from The Whisky Trails, Copyright © Gordon Brown 1993:


It is a short drive from Knockdhu to the trail's terminus in Keith, where it links directly with the traffic jam of trails that spread out all over Speyside.