Macduff Distillery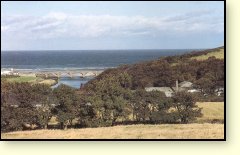 Text from The Whisky Trails, Copyright © Gordon Brown 1993:


The town of Banff has a long trading pedigree. It goes back to the 12th century when it was one of the Hanseatic League towns and had a fleet which traded in the Mediterranean and the Baltic. Then herring fishing boomed and faded, and now Banff is in semi-retirement with its fine buildings and gardens all around and pleasure craft bobbing in its harbour.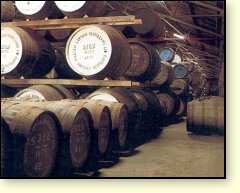 The warehouses at Macduff are purpose-built, but barrels are stacked in a traditional manner.

Macduff on the other side of the Deveron estuary was a spa town for a while but its larger harbour inherited the herring fleet from Banff and fishing is its mainstay. The town is the location of Macduff, a rare malt distillery in that its name is not used by the proprietors for the bottled whisky that it produces. The official name for the single malt from Macduff is Glen Deveron, called after the river on whose bank is sits. The Macduff name is used, however, by independent bottlers.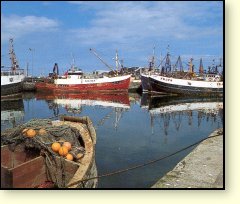 A trip to the picturesque fishing village of Fraserburgh rounds off the trail. The town is half way between Banff and Peterhead, the end of the third trail.

The distillery is modern, having been completed in 1960. The setting beside both river and coast is most attractive but the distillery itself is rather severe. Macduff started with a single pair of stills in 1960. Two years later a third on its own was added, then, in 1968 a fourth, making two pairs. The stills were lagged, thereby making a considerable saving in heating costs compared to other distilleries who prefer the glamorous colour of the copper to be seen. Macduff has its own cooperage. The Tun room and still house were renovated in 1990.
The Whisky
Text from The Whisky Trails, Copyright © Gordon Brown 1993: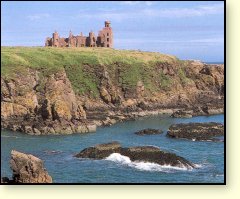 High on the cliffs overlooking Cruden bay stands Slains Castle. The gabled façade hints at its former splendour.

Glen Deveron (and Macduff when the bottler is other than the proprietors) is clean, fresh and very fruity, malty-smooth rather than old'n'mellowed smooth. Sometimes sherry shows through. The style is very appropriate to being drunk young, which is how Italians like malts (the proprietors also own Martini). Glen Deveron is 12 years old, with a five-year-old version for export mainly to Italy. Strength is 40/43% vol., depending on destination. Macduff from independents has recently been available as a 1975 vintage and a 14-year-old. The malt is used in William Lawson blends. Source of water
Unknown

Of interest
Text from The Whisky Trails, Copyright © Gordon Brown 1993:


• Duff House is a beautiful Georgian Baroque mansion, designed in 1735 by William Adam. It has had a number of roles – including a POW camp – and is being prepared to house part of the National Galleries of Scotland collections.

• Banff Castle is also a William Adam house (1750) and has connections with General San Martin, liberator of Argentina, who lived in Banff during his exile. There is apparently a square in Buenos Aires called Plaza Banff, which acknowledges the hospitality he received in those days.

• Slains Castle, seat of the Earls of Erroll at Cruden Bay, was the inspiration for the vampire count's Transylvanian castle in Bram Stoker's novel Dracula. An early draft of the book had Count Dracula arriving in Britain at Slains, though this was subsequently changed to Whitby in Yorkshire