Tobermory Distillery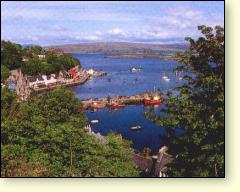 Location: Tobermory, Isle of Mull
Roads: On the shore road at the edge of town
Hours: 10.00am - 5.00pm Mon - Fri. Group bookings max 12
Reception centre and shop
Phone: 01688-302647


Text from The Whisky Trails, Copyright © Gordon Brown 1993:


There is a distinctly continental look to Tobermory on Mull. The blues, oranges and reds of the immaculate waterfront houses and the sentry-like residence on the wooded hill behind make it look more like Portofino than a Hebridean harbour. The town was briefly a centre of commerce in the late 18th century, and indeed was built expressly to be just that. The fine natural harbour made it the chosen site for a fishing station that was built from scratch, work beginning in 1788. Within four years both the fishing operation and general trade conducted through the port were substantial; it was only a matter of time (and a blind eye regarding planning permission) before a distillery became part of the scenery.

While there were certainly numerous stills in production over the centuries on Mull, Tobermory, or Ledaig as it was originally named, is the only permanent distillery to figure in official records. On Skye, today, there is only one remaining distillery – Talisker – and documents tell us the names, locations and a little history of the many that once were but are now no more. Not so on Mull. Tobermory seems to have been the island's sole legal distillery so it is pleasing that there are still those who see it as having a role to play in the island's life.

Among those involved in the creation of the town of Tobermory in 1788 were the Stevenson brothers of Oban who, just a few years later, went into whisky production in their own part of the world. In their case, however, it was the distillery that came first and the town of Oban that subsequently grew up around it. At Tobermory the application in 1797 by a merchant called John Sinclair to build a distillery was turned down because there were two other local stills already in operation. Sinclair declined the offer of permission to build a brewery instead, but when he reapplied the following year he was allowed to go ahead.

Sinclair was an energetic entrepreneur and did well enough from his several businesses to retire at the age of 43. He had built up an estate at Lochaline in Morvern to which he retired in 1825 when his wife died. His name remained on the licence until Ledaig closed down in 1837; Sinclair died in 1863 and his mansion at Lochaline is today a grass-grown ruin.

The distillery was revived in 1878, several owners coming and going before the distillery was closed for the long period 1930 - 1972. During the second world war it was used as a canteen for sailors stationed at a naval base at Tobermory. In 1972, it briefly fluttered into life again for three years but the new owners failed and a Yorkshire property firm came in. The present owners have not yet achieved uninterrupted production but the latest indications are that distillation will continue for the forseeable future. The water comes down to the distillery from the Mishnish Lochs. There are two pairs of stills.


The Whisky
Text from The Whisky Trails, Copyright © Gordon Brown 1993: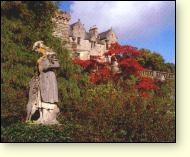 Torosay Castle is a fine Victorian mansion near Tobermory.

Given the customary eight to 15 years' maturation afforded bottled single malt whiskies, any break in production becomes a problem for the future because the missing years restrict fine-tuning capabilities for the final product. Three years' missed distillation in, say, 10 do not just mean three years' lost sales; dearth of mid-term matured product for blending means that the whisky may well never be at its best at any time during that decade.

At Tobermory they have made the best of their circumstances and are to be congratulated for doing so. The Tobermory name is used for both a malt and a blend. The malt is a vatted whisky, combining older Tobermory malt with malts from other distilleries, chosen for their broad similarity to Tobermory's own style. Single malt whisky from the distillery, which is usually from single years of production, can be obtained under the Ledaig label. Recently, 18 and 20-year-olds and a 1973 vintage have been on offer. Source of water
Mishnish lochs

Of interest
Text from The Whisky Trails, Copyright © Gordon Brown 1993: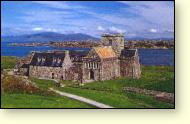 Iona abbey was founded by St. Columba, who landed there in 563.

• The Florida, a Spanish Galleon from the Spanish Armada, sank in Tobermory Bay in 1588. A Maclean clansman, held prisoner on board, set fire to a magazine, effectively scuttling the ship. Tantalising items, including brass- and silverware, have been retrieved but the existence of rumoured treasure has yet to be proven.

• At Ardmeanach a Fossil Tree set into a cliff may be reached via a sometimes boggy but rewarding walk. There is also Mackinnon's Cave, very large and deep, the stone within thought to have been the altar of early Christian hermit-monks.

• The Isle of Mull Wine Company welcomes visitors to see its wine-making, blending and bottling operation at Bunessan.

• Duart Castle is the 13th-century home of the chiefs of the Clan Maclean. It sits on a clifftop, closely scrutinising every ferry that rounds this easternmost headland of Mull on its way to Craignure.

• Torosay Castle is a beautiful family home, designed and built by David Bryce, in 1858. It has 12 acres of gardens, formal and themed, and an Italian Statue Walk. It is possible to travel to it by a narrow gauge railway from Craignure, the only island passenger railway in Scotland. Visitors can see weavers working old dobby looms at their workshops in the grounds.

• Tiny Staffa Island to the west of Mull is the location of Fingal's Cave, made famous as part of the Hebrides Overture to Mendelssohn's Scotch Symphony. He visited the island, of course, as have numerous celebrities. Queen Victoria was rowed in aboard a barge; it must have been a very calm day because waves sloughing into the cave often jam driftwood into rock niches 20 feet above the water.