Tullibardine Distillery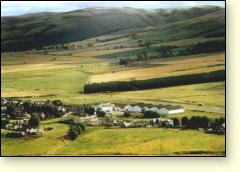 Location: Blackford, Perthshire
Roads: Off the A9 near Auchterarder
Hours: Closed. No visitors


Text from The Whisky Trails, Copyright © Gordon Brown 1993:


Auchterarder was torched in the wake of the Battle of Sheriffmuir which ended the 1715 Jacobite Rebellion; the Highlanders' swords had to be hidden in the roof thatch for another 30 years before the next real opportunity would present itself. The town was also the scene in 1843 of the split within the established Scottish Protestant Church which led to the formation of the Free Church of Scotland, known familiarly as the Wee Free.

There was a Tullibardine distillery in the Blackford area in the late-1790s but it did not last long. Its successor took a long time to appear, and then it was in the shell of an old brewery that goes as far back as the year 1488 when it produced a special ale for the coronation of King James IV at Scone.

The brewery was redesigned in 1949 by William Delme-Evans, architect of Jura and Glenallachie distilleries. He was the partner of a retired Excise officer in setting up the venture but it proved too much of a financial drain and in 1953 it was sold on. Eventually it came into the present owners' hands and in 1974 the distillery was rebuilt. There are two pairs of stills, while water for both whisky making and cooling comes from the Danny Burn.


The Whisky
Text from The Whisky Trails, Copyright © Gordon Brown 1993: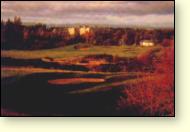 Within relatively easy reach of both Glasgow and Edinburgh, Gleneagles Hotel and golf course are renowned internationally.

Tullibardine, a Highland malt, shows great delicacy in its presentation of a fruity, spicy taste with a herby edge. There is malt, too, and bite in the background. Medium weight. The regular bottling is 10 years old and 40/43% vol. but the proprietors also do an older edition, the Stillman's Dram, at 25 years. One of the independents recently offered 27-year-old. Source of water
the Danny Burn

Of interest
Text from The Whisky Trails, Copyright © Gordon Brown 1993:


• Gleneagles – the magnificent hotel and the classic golf courses - lies just to the east.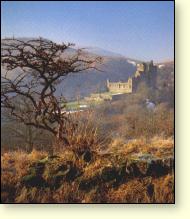 Castle Campbell, 'The Castle of Gloom' has a well-preserved 15th-century tower, surrounded by later buildings.

• Castle Campbell has an imposing location on a spur of rock overlooking the Dollar glen and all the way to the flatlands of the Forth. It was built in the 15th century by the first Earl of Argyll and burned by Cromwell. It is a good example of a late mediaeval fortified house.

• Muthill Church is a ruin but its graveyard has headstones carved with various old symbols of local trades.