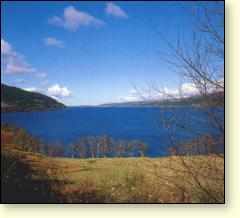 Loch Ness, to the South of Inverness, provides a scenic start to the first whisky trail. In the past, the Loch provided water for distilleries in the area.
This trail follows the string of distilleries up the stretch of Scotland's east coast that lies to the north of Inverness, the capital of the Highlands. All the distilleries are in the Highland category of malts, although some like to describe Orkney's two malts as Island products.

Inverness itself no longer has an active distillery. Two distilleries that were, until very recently, in production were Glen Albyn and Glen Mhor, both of which are alternative Gaelic names for the Great Glen, through whose length the Caledonian Canal passes. Both shared the same water source, Loch Ness, and production of both was stopped in the 1980s. It is still possible to find bottles of Glen Albyn and Glen Mhor from independents.