The Whisky Trails: Trail 6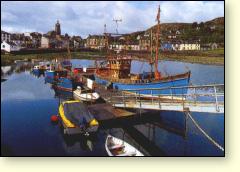 West Coast & Islands
From Campbeltown to Kyle of Lochalsh
Introduction
This is a long and complicated trail which, besides spanning three different whisky regions and 14 distilleries, traverses a part of Scotland that is rich and diverse in history as well as dramatic and lovely in scenery. In past times whisky and heather ale were made in tiny quantities for self-use on every island which supported populations. Proof of the antiquity of this activity emerged recently when archaeological excavation on the small island of Rhum produced a pottery shard containing solidified dregs of heather ale. Staff at the Glenfiddich laboratories brewed a fresh batch from analysis of the contents and were able to taste what prehistoric man drank 4000 years ago. How much longer was it, one wonders, before the next step – primitive, probably accidental, distillation – took place?
Campbeltown
Island of Islay
Isle of Jura
Isle of Mull
Isle of Skye
• The Parliament of the 14th-century independent Gaelic principality run by the Lords of the Isles was located in the stronghold on the island in Loch Finlaggan. New chiefs were proclaimed from there and treaties with foreign governments against the Scottish crown were ratified there. There are several carved stones on the island.
• The Museum of Islay Life at Port Charlotte gives a good perspective on the islanders' lifestyles over the centuries in their main occupations of farming, fishing and distilling. Among the exhibits is an illicit still that was used in the hills nearby over a long period of time.
• The Cross of Kildalton is eighth-century Celtic, yet in fine condition. There was much activity in these parts in establishing Christianity; Iona, place of pilgrimage where St. Columba is thought to have first landed, is close by.
• The Oa Peninsula, which makes up the south-western section of the island, was used by smugglers due to the large number of caves there. Spectacular cliffscapes give it a wild aspect with views in all directions.
• Have a dip in the Bowmore Distillery Swimming Pool, heated by waste-waters from the distillation runs.