The Whisky Trails: Trail 4c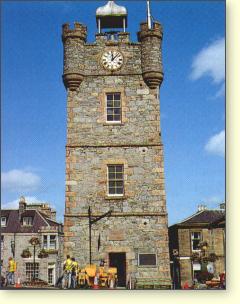 Speyside & Glenlivet
Trail 4c · Around Dufftown
Dufftown began to take shape from 1817 onwards, the idea of the local laird James Duff, the Earl of Fife, who felt that the men who returned from the Napoleonic Wars were entitled to have work. The Town House tower was built in 1836 and is now the Dufftown Museum and information bureau; it used to be the local jail.
The Clock Tower was built in 1839 but the clock itself came from Banff and was the tool of a lynching there in 1700. A known Robin Hood-style bandit called Macpherson, condemned to die there at a specific hour by a legal court, was reprieved in response to a petition from the townsfolk. Knowing that the pardon was on its way, Lord Braco, Sheriff of Banff, had the town clock put forward an hour so that Macpherson could be executed before the document arrived.
Dufftown thrived after the distillery-building Klondyke of the 1890s and someone came up with the idea that, in comparison with Rome which was built on seven hills, Dufftown was built on seven stills. The seven were Mortlach (1823), Glenfiddich (1887), Balvenie (1892), Convalmore (1894-1985), Parkmore (1894-1931), Dufftown (1896) and Glendullan (1898). The situation has further evolved, however, with Pittyvaich (1975) and Kininvie (1992) having been subsequently added.
Above: Dominating the centre of town, Dufftown Clock Tower is built in a similar style to many of the castles and mansions in this part of the world.
Glenfiddich Distillery
Glendullan Distillery
Mortlach Distillery
Dufftown Distillery
Balvenie Distillery