The Whisky Trails: Trail 4d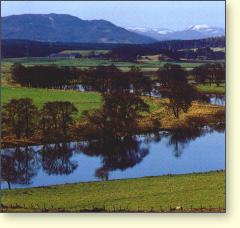 Speyside & Glenlivet
Trail 4d · Around Aberlour
If there was any illicit whisky-making activity at this spot in the early years of the 19th century, the smugglers eventually had to make themselves scarce because in 1812 the local laird located the new village of Charlestown of Aberlour around it. Smooth stones taken from the bed of the Spey were among the building materials used for some of the houses. Aberlour had a famous orphanage, built in 1882 by the Littler family who were local benefactors. The tower next to the high school is all that remains of the buildings.
Distillers, like philanthropists, have the power to see things done in their communities. After a great storm in the 1840s, the town church clock stopped and with it the villagersí timekeeping. Bread was not baked on time, shops opened late, farm-workers lost the early hours and so on. When the Aberlour manager offered a cask of his whisky to anyone who could repair the clock, it was back in service within days.
The village lies on the right bank of the River Spey below the Conval Hills. It is pretty and flower-bedecked in summer, a sometime winner of Scotland in Bloom and Best-Kept Village in Scotland trophies. From Ben Rinnes some claim that on a clear day you can see, not forever, but the smoke from most of the 43 distilleries that surround the mountain. Aberlour shortbread, a famous Scottish butter-cake, is regarded as among the best obtainable.
Above: The river Spey wends its way down from the Cairngorms.
Aberlour Distillery
Glenallachie Distillery
Benrinnes Distillery
Glenfarclas Distillery
Cragganmore Distillery
Tormore Distillery
Knockando Distillery
Tamdhu Distillery
Cardhu Distillery
Imperial Distillery
Dailuaine Distillery
Macallan Distillery
Craigellachie Distillery