The Whisky Trails: Trail 4b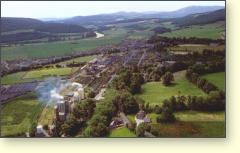 Speyside & Glenlivet
Trail 4b · Around Rothes
If you arrived as a visitor to Rothes from the north at the turn of the century, the sight that greeted you would surely have seemed to sum up the Highlands. Immediately before you, at the entrance to the village, not only was there a whisky distillery on each side of the road, but the overhead pipe that ran across the road, like an artery linking a body to some vital source, contained not water, nor fuel, nor milk, but ... whisky.
Rothes is an attractive village in the no-nonsense, slightly austere Highland way and it is best known today for its clutch of five whisky distilleries. In order of appearance, these were Glen Grant, 1840; Glenrothes, 1878; Glen Spey, 1879; Speyburn, 1897; and Caperdonich, 1898. Visiting them in this order is not vital but gives a chance to compare the early buildings and the choice of sites.
The English King Edward I passed south from Elgin through the Glen of Rothes at the head of his invading army in 1296 but the town was not founded until 20 years after Culloden. It was a crofting community and Glen Grant distillery was its first industrial presence. Rothes castle is the flimsy ruin seen today because most of the stonework went clandestinely into building the crofters' cottages.Left: Rothes Castle shows little of its former splendour.
Glen Grant Distillery
Speyburn Distillery
Glenrothes Distillery
Glen Spey Distillery